Creating a truly stylish and comfortable home is not an easy task. Everyone approaches this issue in their own way. We try to surround ourselves with things that will be both useful and pleasing to the eye: we insert memorable photos into frames, plant a plant in a pot, decorate the bookshelf with a beautiful figurine. But at times we have a feeling that something is not right, and we are so lacking in an outside perspective.
We at  66outfit tried to figure out what prevents our apartments from becoming like the covers of designer brochures.
1. Plastic dishes
Plastic products undoubtedly have a lot of advantages: they are quite shock-resistant, easy to clean and very inexpensive. But they also look corresponding to their value. In addition, over time , plastic begins to disintegrate and release volatile substances that can negatively affect our body. Much more aesthetically pleasing and more profitable, for example, ceramic or glass dishes.
2. Postcards on the shelves
Many people liked to decorate the shelves with cards and valentines. Bright pictures reminded of a pleasant event, but they were knocked out of the interior of the rooms. And the postcards were placed between the glasses in the cupboards and then they fell forever, then they could not get back. Let's be honest: both open and glazed shelves look better without multi-colored paper paraphernalia.
3. Colorful photo frames
Bright, voluminous frames rarely harmoniously blend into the environment and often distract attention from the photograph itself, becoming almost the main element. A better solution would be to stick to a calm frame of neutral shades.
4. Wind chime
A very common decor element that came to us from  China . The musical pendant has no practical significance and in many cases only distracts attention, while the abundance of small elements creates the impression of disorder. In addition, the thing collects dust on itself.
5. External wiring
External wiring tends to spoil the look of the wall. And the holes from the studs that secure it do not add beauty. Therefore, if it is possible to hide the wires in the wall, then it is better to do so.
6. Glazed bookshelves
These bookcases were very popular during the youth of our mums and dads. The glass prevents dust from settling, but stains and handprints quickly appear on it. Open multi-tiered shelves are both more comfortable and stylish.
7. Artificial fruits
Like artificial flowers, plastic fruits, even with attention to detail, look cheap. And if you put a dish with fresh fruit on the table in the living room for some reason you don't like it, then you can refresh the space, for example, with a vase of dried flowers, matched to the tone of the room.
8. Shoes in disarray at the entrance
Such a "dump" at the door from the threshold creates a sense of disorder. In addition, in this case, the shoes get dirty easily and quickly deteriorate. Therefore, it is important to take care of this. A great option is a shoe rack organizer. It is not expensive at all and saves space.
9. Plants in food containers
It happens that we do not have time to transplant a recently brought home plant in time, and then we postpone everything and put it off. Needless to say, the interior only loses from this – such a temporary "pot" can ruin both the mood and the atmosphere. To avoid this, you need to stock up on both earth and a plant pot in advance.
10. Assorted figurines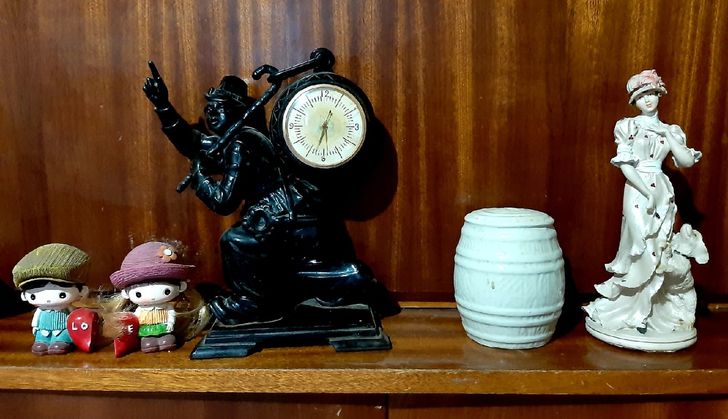 They are given, brought from vacation, bought. They settle on shelves, taking up an already small workspace. It is more practical and much more aesthetically pleasing to leave a maximum of a pair that suits the setting, and you will be surprised how such a small detail can improve the overall perception of the room.